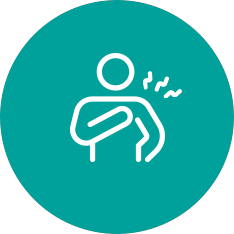 Shoulder
It can take around 8-24 weeks for your shoulder to feel better.
There can be many different reasons why you have shoulder pain. You can usually do things to ease shoulder pain yourself. If your shoulder pain is a new problem, try following the advice below.
Symptoms to check
Click the plus sign to see a list of problems that could be a sign you may need to be checked urgently
Get advice from 111 now if:
the pain is sudden or very bad
you cannot move your arm
your arm or shoulder has changed shape or is badly swollen
you have pins and needles that do not go away
your arm or shoulder is hot or cold to touch
the pain is severe and started after an injury or accident, like a fall
hurts when you exercise but goes away when your rest
you are experiencing chest pain/tightness with your shoulder pain
111 will tell you what to do. They can tell you the right place to get help if you need to see someone.
Go to 111.nhs.uk or call 111.

Immediate medical advice is available by contacting NHS 111